Country Music's Rusty Weir
2006 Red Jack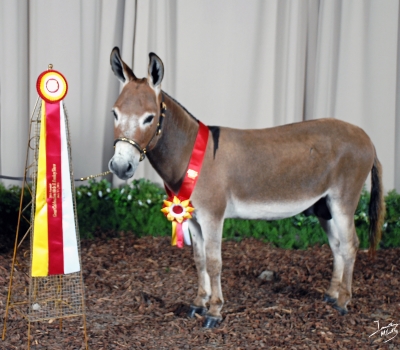 Country Music's Rusty Weir is a superior halter jack and herd sire for Appalachian Farmstead. Rusty is by Country Music's George Jones and out of Country Music's Allison Spear. We fell in love with this beautiful sorrel foal while visiting Country Music's Miniature Donkeys in 2006 and had him shipped to us when he was weaned. Rusty has a very mischievous personality and is always a favorite of those who have worked with our donkeys over the years. He has a "look at me" personality, and he will do most anything to get attention!
Rusty has many halter championships earned over his years of showing, including standing Reserve National Champion Jack at the 2017 NMDA National Show in Shelbyville, Tennessee, at age 11 after winning his class of Five Years and Older Jacks.
Rusty has only had a few foals for us over the years, due to our limited breeding program; however, these foals have performed admirably, winning a number of championships. These include Farmstead's Chessie, Reserve Champion Jennet at the Tennessee State Fair; Farmstead's Admiral Farragut, Grand Champion Gelding at the Tennessee State Fair and Tennessee Donkey Association High Point Gelding as a yearling; Farmstead's Popcorn Sutton, ADMS Reserve National Champion Donkey at 9 months old; and Farmstead's Ruby Iris, NMDA National Champion Yearling.