Knox's Story
Farmstead's Henry Knox is our first foal born since we relocated our farm to Knoxville, Tennessee, so it was only appropriate that we named him after the namesake of Knoxville, Henry Knox, George Washington's Secretary of War.
Knox has already established himself as a winner in the show arena with Yearling Jack class wins at the only two shows at which he has been shown in 2019, the Diamonds and Donkeys Show in Magnolia, Arkansas, and The Great Celebration Mule and Donkey Show in Shelbyville, Tennessee. At Diamonds and Donkeys, Knox was also named Reserve Junior Champion! Knox has an absolutely gorgeous dark red color, and he will do quite well in color classes. His sire is our spotted jack, WLDF Tin Roof Sunday, four-time ACOSA National Champion Jack and winner of numerous NDMA championships. His dam is Country Music's Eli Barsi, our wonderful show jennet from several years ago who was NDMA Reserve National Champion Jennet and who has produced a number of champions in the show arena. Knox has developed in 2020 into a very beautiful, drafty jack who has been bred to three of our brood jennets for 2021 foals.
We are very excited to see what Knox will do as a herd sire! Knox has reluctantly been sold to Shane Carey's Malakai Mediterranean Miniature Donkeys in Victoria, Australia for a March 2021 relocation to that country from Knoxville. We are sorry to see Knox leave Appalachian Farmstead, but we know that he will make a wonderful herd sire for Shane's red brood jennets!
Knox's Pedigree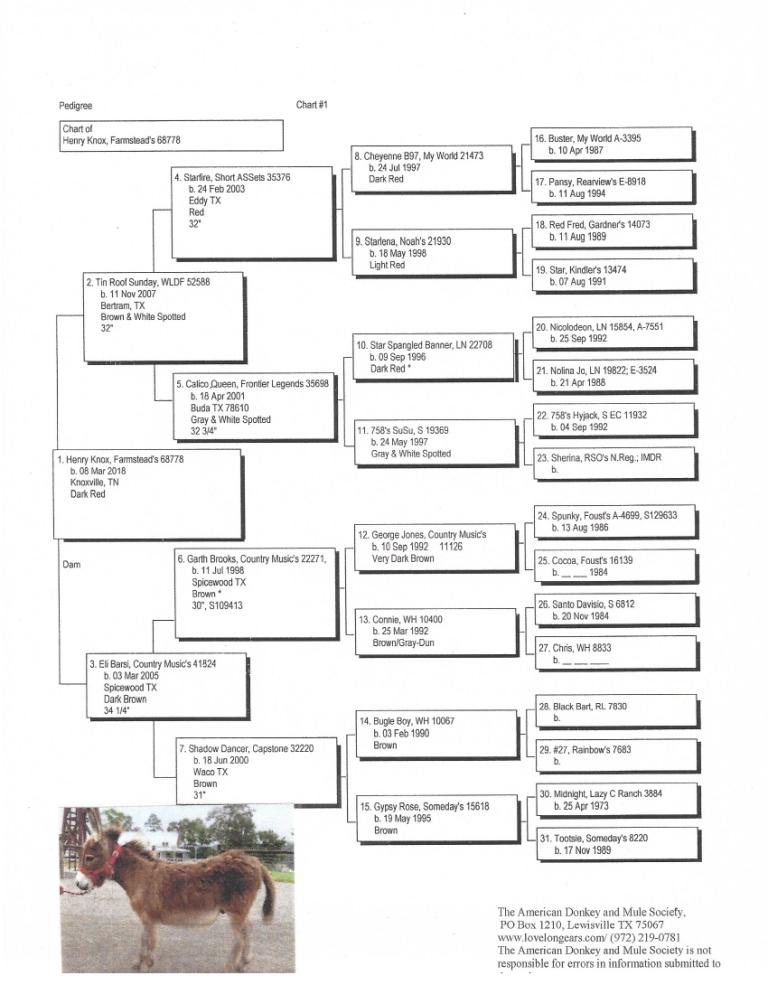 Knox's Show Record
2019
Music City Donkey Show (Shelbyville, TN)
2nd Place Weanling/Yearling Jacks

Diamonds and Donkeys Show, Magnolia, Arkansas (ADMS National Show)
1st Place Yearling Jack Class
Junior Reserve Champion

The Great Celebration Mule and Donkey Show (Shelbyville, TN)
1st Place Yearling Jack Class

Knox's Image Gallery