Molly's Story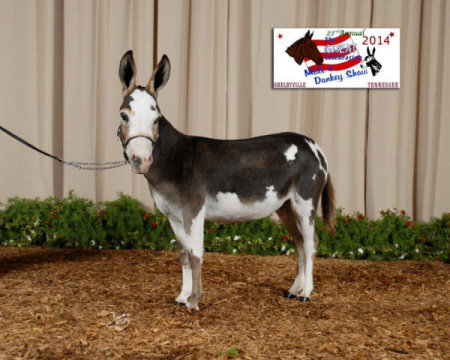 Farmstead's Molly O'Day is a beautiful 2012 brown and white spotted jennet bred, foaled, raised, and shown by Appalachian Farmstead. Molly's sire is WLDF Tin Roof Sunday, four-time ACOSA National Champion Jack, and her dam is Golden Papillon's Precious Peridot, mother of a number of NMDA Grand Champions and National Champions.
Molly made her debut in the show ring at the 2013 Great Celebration Mule and Donkey Show, which was the National Show for both NMDA and ACOSA. Molly was named NMDA National Champion Yearling Jennet and ACOSA National Champion Jennet at her first show! The next year, Molly repeated her performance at the 2014 Great Celebration Mule and Donkey Show, winning the NMDA Two Year Old Jennet halter class and then was named the ACOSA National Champion Jennet. In 2015, Molly was selected as NMDA Grand Champion Jennet at the Tennessee State Fair. In 2016, Molly continued her winning ways at the Great Celebration Mule and Donkey Show, being selected as the NMDA Grand Champion Jennet and the ACOSA National Champion Jennet. She also had the honor of being selected for the cover of the 2016 Holiday Issue of Asset, the quarterly publication of the NMDA. Being named Halter High Point Jennet by ACOSA for 2016 was an exciting conclusion to a great year of showing for Molly! Molly received her ADA Excellence in Halter certificate in 2017.
Besides being shown at 3-4 NMDA/ACOSA shows each of the past few years, Molly's sweet disposition has made her ideal for participating in various events for children and older adults in the Northeast Tennessee region. Molly has been a winner for Appalachian Farmstead both inside and outside of the show arena, and she is also expected to be a winner as a brood jennet!
Molly's Pedigree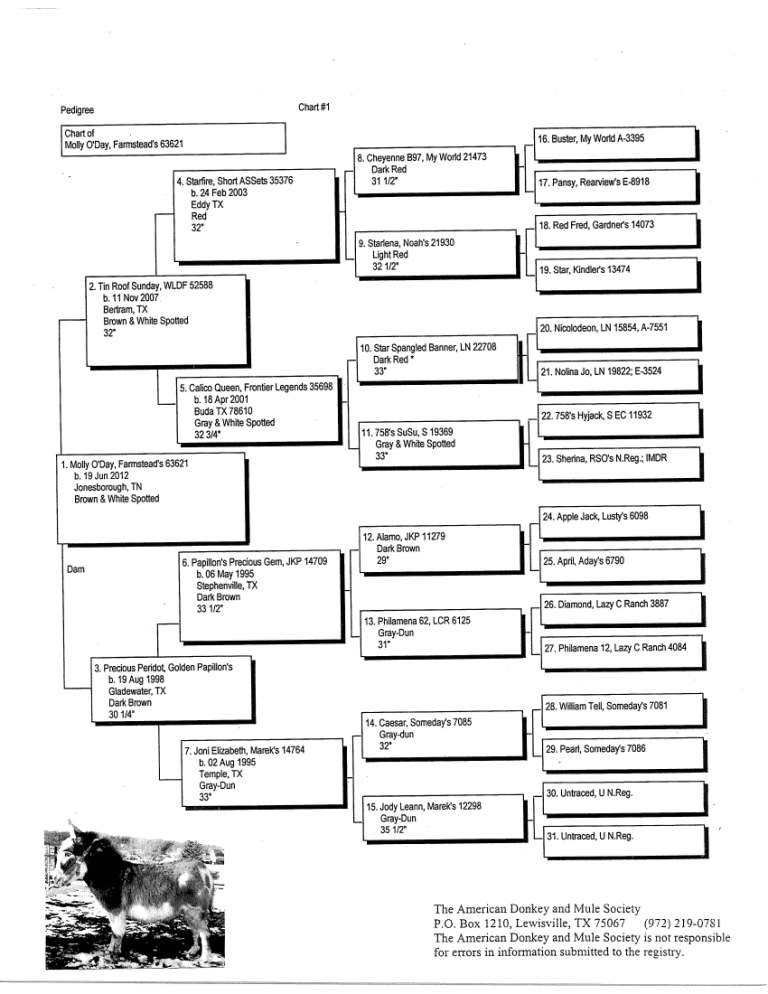 Molly's Show Record
2017
Tennessee State Fair (Nashville, TN)
3rd Place, 2 Years and Older Jennets

Excellence in Halter Certificate, American Donkey Association

Wilson County Fair (Lebanon, Tennessee)
3rd Place, Jennets 4 Years and Older
2nd Place, ACOSA Jennets 2 Years and Older

The Great Celebration Mule and Donkey Show (Shelbyville, Tennessee) NMDA National Show
3rd Place, 5 Years and Older Jennets

The Great Celebration (Shelbyville, Tennessee) ACOSA National Show
2nd Place, 3 Years and Older Jennets

2016
ACOSA National High Point Halter Jennet

Wilson County Fair (Lebanon, Tennessee)
5th Place, 2 Years and Older Jennets
2nd place, ACOSA Jennets
Reserve Champion ACOSA Donkey

The ADA Music City Show (Shelbyville, Tennessee)
4th Place, 3 and 4 Year Old Jennets
5th Place, ACOSA Jennet

The Great Celebration Mule and Donkey Show (Shelbyville, Tennessee)
1st Place, 3 and 4 Year Old Jennets
Grand Champion Jennet
4th Place, Donkey Color Class

The Great Celebration (Shelbyville, Tennessee) ACOSA National Champion Show
1st Place, 3 Years and Older Jennets
National Champion Spotted Jennet

2015
Tennessee State Fair (Nashville, TN)
1st Place, 2 Years and Older Jennets
Grand Champion Jennet

Wilson County Fair (Lebanon, Tennessee)
6th Place, 2 Years and Older Jennets
3rd Place Spotted Class

The Great Celebration (Shelbyville, Tennessee) ACOSA National Show
4th Place ACOSA Miniature Jennets, 2 Years and Older Jennets

2014
The Great Celebration (Shelbyville, Tennessee) NMDA Show
1st Place, 2 Years and Older Jennets
5th Place Color Class
The Great Celebration (Shelbyville, Tennessee) ACOSA National Show
1st Place ACOSA Miniature Jennets, 2 Years and Younger
ACOSA National Champion Jennet
2013
Tennessee State Fair (Nashville, TN)
3rd Place, Weanling/Yearling, Jennets

The Great Celebration (Shelbyville, Tennessee) NMDA National Show
1st Place, Yearling Jennets

The Great Celebration (Shelbyville, Tennessee) ACOSA National Show
1st Place, 2 Years and Under Jennets; Grand Champion Jennet
6th Place, Open Color Class

Molly's Image Gallery