Moonpie's Story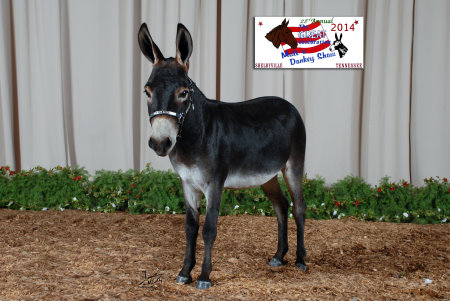 Farmstead's Moonpie is a beautiful dark brown 2010 jennet with white points and is out of our great show jennet, Country Music's Eli Barsi and by our former herd sire, Willow Creek Luigi, ADMS National Champion Jack and Best of Breed.
Moonpie has a tremendous show record, including standing Grand Champion Jennet at the Tennessee State Fair, Reserve Champion Jennet at The Great Celebration Mule and Donkey Show, and High Point Jennet for Tennessee. Moonpie and her mother, Eli Barsi, consistently won Best Matched Pair competitions at a number of donkey shows.
Moonpie will he making her new home at Wee One's Farm. Congratulations to LJ and Deb Mix on their purchase of this wonderful show and brood jennet!
Moonpie's Pedigree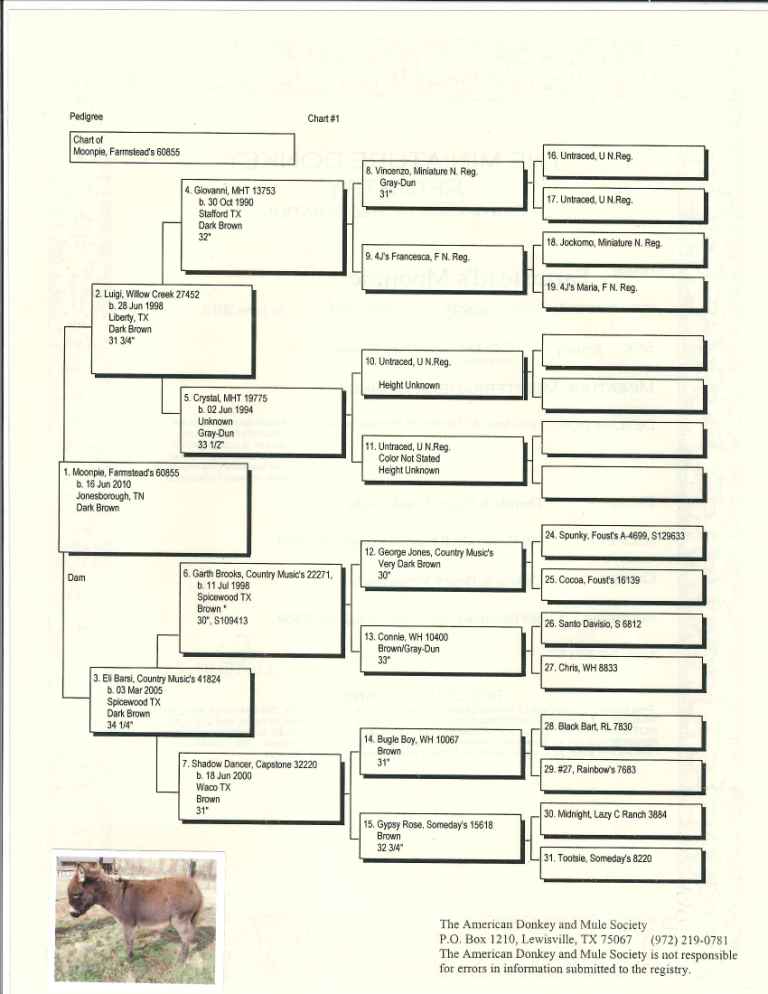 Moonpie's Show Record
2017
Tennessee State Fair (Nashville, TN)
6th Place, 2 Years and Older Jennets
5th Place, Best Matched Pair (with Ernie)

The Great Celebration Mule and Donkey Show (Shelbyville, TN) NMDA National Show
1st Place, Best Matched Pair (with Eli Barsi)

2016
Tennessee State Fair (Nashville, Tennessee)
1st Place, 2 Years and Older Jennets
Grand Champion Jennet

Wilson County Fair (Lebanon, Tennessee)
3rd Place, Jennets 2 Years and Older
1st Place, Solid Color Class

The Great Celebration Mule and Donkey Show (Shelbyville, TN)
1st Place, 5 Years and Older Jennets
Reserve Champion Jennet

2015
Tennessee State Fair (Nashville, TN)
3rd Place, Solid Color Class
2nd Place, Best Matched Pair (with Eli Barsi)

Wilson County Fair (Lebanon, Tennessee)
2nd Place, Best Matched Pair (with Eli Barsi)

The Great Celebration (Shelbyville, Tennessee) NMDA Show
3rd Place, 5 Years and Older Jennets
1st Place, Best Matched Pair (with Eli Barsi)

2014
The Great Celebration (Shelbyville, TN) NMDA Show
1st Place, Best Matched Pair (with The Grand Finale)

2013
Tennessee State Fair (Nashville, TN)
3rd Place, 2 years and older Jennets
3rd Place, Best Matched Pair (with Eli Barsi)

The Great Celebration (Shelbyville, TN) NMDA National Show
2nd Place, 3 and 4 year old Jennets
3rd Place, Best Matched Pair (with Eli Barsi)

2012
The Great Celebration (Shelbyville, TN)
2nd Place, 2 year old Jennets
3rd Place, Best Matched Pair (with William Blount)

Moonpie's Image Gallery